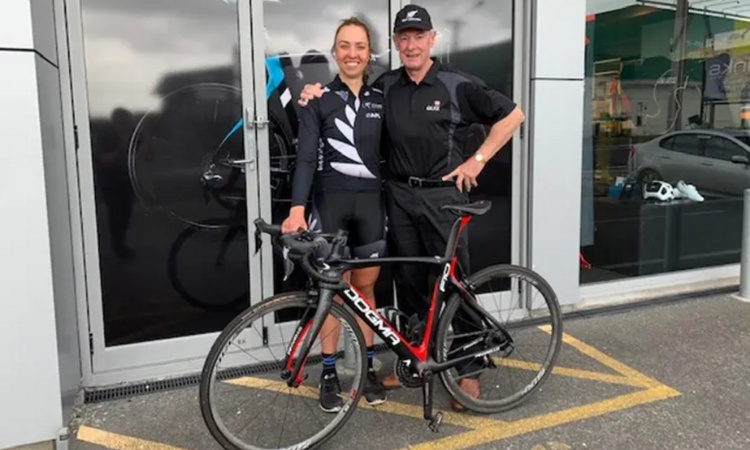 21 Sep

Quix Sponsored Olympian Bryony Botha Competes at the Olympics

Road and track cyclist Bryony Botha made New Zealand proud with a competitive effort in the 4000m Women's Team Pursuit event of the 2020 Tokyo Olympics. She, along with her team-mates Holly Edmondson, Kirstie James, and Jaime Nielsen, took on the world's best with a phenomenal performance. In the Qualifying event they rode a personal best time of 4 minutes 10 seconds which matched the pre-Olympic world record before the Gold medallists German team smashed it by 5 seconds – an unheard-of feat that the Germans managed to repeat in the event final. In their last race for table positions, team New Zealand were narrowly defeated by Australia and France, behind both teams by less than a third of a second.

A 2018 Commonwealth Games silver medallist and 2019 Track Cycling World Championships bronze medallist, Bryony Botha's brave competitive spirit won the admiration of the Quix network of plumbing specialists, who have supported her Olympic preparations by equipping her with a trailblazing Pinarello Dogma F10 bike. Read on to learn more!

The 23-year-old Takapuna girl's journey to the Olympics began when she was 16 after her dad introduced her to cycling. A multitalented athlete, Bryony spent most of her early school days doing gymnastics and triathlon at Rangitoto High School. Her strongest leg in triathlon was cycling, a further encouragement for her to take up cycling as a main sport. After taking up track cycling, she quickly excelled and was in the New Zealand Junior B cycling team for three years, before being transferred to the elite squad.

Bryony's Olympic odyssey was by no means an easy ride, in 2015 she sustained serious knee and arm injuries after she crashed during a race. Her injuries were so severe that she required a total of 25 stitches. The setback, however, was not enough to dampen the spirit of the Kiwi Olympian, who recovered from the injury to win a gold medal in the 4000m team pursuit of the 2017 Oceania Track Cycling Championships. Impressing observers, she was invited to the New Zealand high performance programme in 2018, and after winning silver at the Commonwealth Games in 2018, she and her team were on track for the Tokyo Games, where they gave the best track cyclists in the world a run for their money.

The dream of winning a medal for New Zealand is far from over. With the 2024 Paris Olympic Games now in sight, Bryony and her teammates have three years to sharpen their skills from the invaluable experience they earned in Tokyo.
Bryony's Championship Record
World Championship: Bronze, Team Pursuit, Poland, 2019
Junior World Championship: Gold, Team Pursuit, Kazakhstan, 2015
Junior World Championship: Bronze, Team Pursuit, Korea, 2014
Commonwealth Games: Silver, Team Pursuit, Gold Coast, 2018
Final Results for the 4000m Team Pursuit at the 2020 Tokyo Summer Olympic Games
1. Germany: 4:04.242 (Gold)
2. Great Britain: 4:10.607 (Silver)
3. USA: 4:08.040 (Bronze)
4. Canada: 4:10.552
5. Australia: 4:11.041
6. Italy: 4:11.108
7. France: 4:10.388
8. New Zealand: 4:12:536
Quix Supports New Zealand's Best for A Reason
Quix prides itself on being New Zealand's leading plumbing service, with an established network of the country's best plumbers in Auckland and throughout the country. Our experienced and expert plumbing specialists can solve any of your plumbing issues from leaking bathroom taps to large scale maintenance projects of commercial buildings. If you have any plumbing problems that you need help with, don't hesitate to contact us!